Lesson Plan

BluesLessons.net is growing and growing. And some visitors don´t know where to start and which lessons are the best for their needs. So I mad this plan for you.
Absolute Beginners
You should start in the "Beginner Lesson" section with these lessons:
Learn how to tune your guitar: Guitar Tuning
Learn strumming some chords: Strumming & 4/4 Strumming Techniques
Learn to read tabulature in order to understand these lessons: How to read Guitar Tabs -
Beginners
Now we move on into the "Blues Lessons" section!
You can´t play the Blues withou knowing how to play a 12-Bar-Blues: The 12-Bar-Blues
And to spice up your 12-Bar-Blues you need some 7th and 9th chords: Blues Chords & 12-Bar Blues with 9th and 7th chords
Turnarounds are the spice in a Blues song and you´ll find them in most every classic Blues Tune:

Blues Turnarounds -  Turnarounds you can remember - Turnarounds in E
Blues Shuffle Rhyhtm
The Shuffle ryhthm is very important. Like the 12-Bar-Blues and turnarounds, this lesson is a must: Blues Shuffle Rhythm
Intermediate Lessons(Pentatonic & Blues Scales)
Of course you want to learn how to play Blues solos. But you don´t know which notes you can play. This is very the Pentatonic Scale comes in. Master all 5 pentatonic shapes and you can play lead guitar solos in every key!

The Minor Pentatonic Scale - Learn all 5 pattern and move it up and down the fretboard into other keys.

Start with: The Minor-Pentatonic-Scale - Pattern 1/5 and move on to the pattern 2-5!

The Blues Scale - Now we add 1 note to the pentatonic scale, the "Blue Note".
Lead Guitar Techniques
For the players which mastered the lessons above and want to get faster, play with more feeling...
We start with techniques you need to know if you want to play Blues lead guitar. Bendings, Vibratos, Hammer-On/Pull-Off ...

Bendings - One of the most used lead guitar technques.

Hammer-On & Pull-Off - Easy to learn and fun to play!

Vibrato - The Vibrato makes your guitar sing. Listen to B.B. King and you´ll know what I mean

Double Stops - A favorite technique used by Chuck Berry
The Legato Lesson - If you want to play fast guitar licks, you need to know the legato technque.

Phrasing -  Learn to play with more feeling. A "must" for a Blues guitar player

You can practice all you´ve learned before with the lessons in the "Blues Licks & Exercises " section and the mp3 Blues Backing Tracks.
---
Slide Guitar (optional lessons)
To play with a slide or bottleneck is another technique a lot of Blues players used. But this is different from all the lead guitar techniques, because you play with a slide on one of your fingers and you have a different tuning on your guitar (you can play in normal tuning, but it´s much more difficult and complicated). So if you want to learn these, go to the slide guitar section
Fingerpicking & Fingerstyle (optional lessons)
Fingerpicking is more for the Blues guitar players who´d like to play older classic Blues songs on an acoustic guitar. Fingerpicking can be quite difficult to master and if you´d rather play Bluesrock on your electric guitar, you don´t have to learn this.
---
Advanced Lessons
So if you mastered the Blues lessons, the pentatonic scale and lead guitar techniques, you can go on and learn how Blues Legends like SRV or Jimi Hendrix played, learn about their styles and learn some Blues Classics in our more easy versions.
In the section "Play like..." you´ll learn about the guitar sound, equipment and playing style of Blues Legends like B.B. King, Stevie Ray Vaughan or Joe Bonamassa.
In the section "Legend Style Tracks" you´ll find tricky solos in the style of Albert King, Buddy Guy, B.B. King, Eric Clapton and many more.
---
Guitar Exercises
Last but not least we have some lessons for your finger strenth and flexibility and dexterity

Finger Dexterity

Picking-Speed

Speed Exercise
---
So I hope this Blues Lesson "Schedule" helped you to find a way through my site!

Have fun and enjoy the lessons!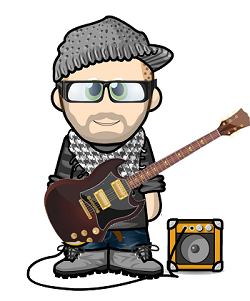 Dirk