Author: Steve Wells
Notes: Turnarounds are the spicy end of every Blues tune
You can find Turnarounds in most any Blues song. They give your guitar-playing more individuality and are mostly played at the end of a verse or song.Similarly as with pentatonics some Turnarounds can be played in various keytones.
Here you find a collection of great Turnarounds in different kinds of keytones and different degrees of difficulty. The origin text can be downloaded at the end of this page! Take some Turnarounds you like to learn and practice them. You do not have to be able to do each and everyone of them! If want to know how some of these Turnarounds sound, look at the GuitarPro file which I made for you, which contains most of the here presented Turnarounds.
Have fun learning them!
Blues Turnarounds
These turnarounds are mainly in E, but a few are in other keys.
Practice them, until you have the feeling for the song and/or the Turnaround.
Actually the feeling for you playing in this exercise is very important.
Turnarounds in E
A useful basic turnaround in E, which you can find in many songs! 

You can get a special feeling, if you pick the single notes! 

The same turnaround with some slides and hammer-ons! 

A nother alternative for this Turnaround 

You see, there are endless variations of these turnarounds and you should experiment with them!
The next one is more complicated and contains some Double Stomps. 

The remaining Turnarounds are often quiete simple, but you can easily add som bends, slides or hammer-ons. Experimentate with them too! 

Watch your timing on this one! 

This one is quite simple and can be played with a plektrum or fingerpicking. 

This one is from a Lightnin' Sam Hopkins song. 

Here are a few ideas for Turnarounds. This one is from "Malted Milk", played by Eric Clapton. 

This one is perfect for a slow Blues.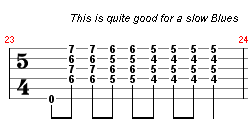 Another variation.

This is no real Turnaround but a good ending for a song! It´s a slide to the E9 chord. Let it ring!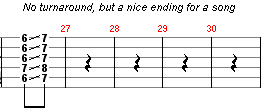 Turnarounds in other keys!
Handy in a solo Solo. This Turnaround is in G, move it up or down the fingerboard into other keys. 

Here is a good Lick in A. When you move it up to the key C on the 8th fret you can hear some similarity to "I´m tore down" by Eric Clapton. 

This one is from Robert Johnson's "32-20 Blues". Just a little bit simplified. 

Turnarounds in Open G
(Tuning D G D G B D ) See Lesson "Open Tunings"
Another riff from a Robert Johnson song, similar to "Kindhearted Woman".
Use a bottleneck for the slide part.

This one is from "Walking Blues" like Clapton has done it on his Unplugged" CD. Use a bottleneck for the slide part. 



 Turnarounds
---
BluesLesson.net Ebook - "Easy to learn Blues Guitar"
Learn to play Blues the easy way
This guitar course (about 70 pages) is especially written for people who are quite new to playing guitar.
Here you will find all you need to learn how to play the Blues:
* All beginner lessons are included in this ebook!
* You start from the first 12-bar-Blues to your first Blues solo licks.
* You´ll learn about Blues chords, the Blues scale, bendings, vibratos, slide guitar and much more!
...more Information